LOOKING TO HIRE & STAFF MODELS FOR AMERICAN ACADEMY OF OPHTHALMOLOGY ANNUAL MEETING
The TSM Agency Chicago can help you to sta­ff experienced, professional, and classy trade show booth models, demonstrators and promotional model girls.
American Academy of Ophthalmology Annual Meeting Chicago
The American Academy of Ophthalmology Annual Meeting is one of the most popular Ophthalmology meetings in the world. The industry is highly sought after and has all Ophthalmology physicians, services, technology, and innovative products available. The attendees and professional can have a variety of educational learning and find out the most up to date techniques on the market today. The event will attract many professionals from around the world. The show is held annually in Chicago each year. There is a large crowd of professionals, businesses, retailers, and distributors who come for this event.
American Academy of Ophthalmology Annual Meeting Chicago
October 15-18 2017
McCormick Place
Chicago, Illinois
# Exhibitors: 560
# Attendees: 16,113
AMERICAN ACADEMY OF OPHTHALMOLOGY ANNUAL MEETING AND STAFF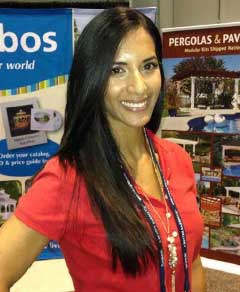 Are You Looking to Hire a Professional Show Model for American Academy of Ophthalmology Annual Meeting?
The TSM Agency have been working with the American Academy of Ophthalmology Annual Meeting for several years. There are thousands of individuals who are visiting from over 88 countries to attend the Ophthalmology show. You do not want to miss out on clients because you did not have a brand ambassador for your booth. There are over a hundred of intelligent, qualified, elegant, and energized models available in Chicago for the American Academy of Ophthalmology Annual Meeting.
Our Chicago models can take down detailed client information and will provide any concerns that crowd may have. They will attract more people to your booth by speaking to them in conversation. Our trade show models will promote your brand and help increase your business clients. The models can become a huge profit and benefit to your team. The models are highly trained and skilled to capture the attention of people and draw them to your booth. The management of the spokesmodels  is in Chicago. There is no need for hotels, food, and transportation to be paid when you hire a booth model from Chicago, Illinois.
Looking to Hire Promo Models for American Academy of Ophthalmology Annual Meeting in Chicago
When you hire a professional model, you will have more time to pay attention to the crowd of potential clients. Our promo girls are skilled and qualified to watch your booth while you focus on the promotion and building clientele. The model will manage customers and offer to assist customers with answers to questions or concerns that the attendees have You will not have to worry about not talking to all the crowd because the model will be there to keep up the conversation with attendees who is interested in your brand. These professional booth models will converse with the people who pass by your products and booth. They will take notes on relevant information from people and attract individuals to your booth. Our trade booth models are educated about the items and can interact with a room full of people easily.
About Chicago
The city is one of the best choices for trade shows events in the region. The city is a beautiful place to house a large crowd. The city has an abundance of big buildings to equipped the mass attendance that these shows provide. Chicago is a great place because of the entertainment that the city has available. The city is famous for tourists and people coming to see the city. There is a lot of enjoyment and activities to do when you're come to visit Chicago. The location is equipped with the ability to hold big numbers of attendees and provide amazing trade shows. If you want to come to Chicago and see the American Academy of Ophthalmology Annual Meeting, then you can take part in the main attractions of the community. There will be plenty of entertainment available after the show has come to an end.
Chicago Promo Modeling Opportunities
Do you consider yourself an experienced and skilled promotional demo model or booth girl? TSM Agency is hiring staff Chicago models for American Academy of Ophthalmology Annual Meeting. We are expanding our talent industry of Chicago trade show booth models. The types of models are a demonstration, promotional, trade show staff, and professional event models. Our trade show models are outgoing and enjoy talking about products or brands in a fast and enthusiastic environment. If you have what it takes to represent our clients in a positive atmosphere at that great event, then fill out a modeling app. Get in touch with us immediately to see if you are a good fit.
American Academy of Ophthalmology Annual Meeting Model Staff Rates
Hire a Chicago greeters and crowd gatherers  model for an incredible cost-effective opportunity to employ your booth. When you consider the savings on travel, rooms, dining and other accommodations it is a great option to consider. With over 20,000 people and a buyer who spend an average of $50,000 each year, the extra booth staff will make a huge difference. Don't miss out on our translator services and multi-language models as the American Annual Ophthalmology Annual Meeting attracts manufacturers, professionals, and eye professionals coming from more than 16 different countries.